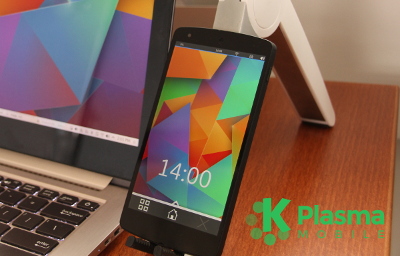 Plasma Mobile offers a Free (as in freedom and beer), user-friendly, privacy-enabling, customizable platform for mobile devices. Plasma Mobile is Free software, and is now developed via an open process. Plasma Mobile is currently under development with a prototype available providing basic functions to run on a smartphone.
Plasma Mobile offers...
Freedom. Plasma Mobile is Free and Open Source software. It can be acquired free of charge, with the power and licensed rights to change it in any way, to redistribute it and to understand how it works.
User-friendliness. Plasma Mobile is designed via an open process, making sure that the requirements and wishes of users are heard and implemented in the best possible way. Ergonomy and integration across devices on top of a high quality software stack provides a stable, rich and reliable system that helps users get things done efficiently and effectively.
Privacy. Plasma Mobile integrates with services trusted by the user. Instead of depending on claims from hardware or operating system vendors, trust is based on software that has been audited in an open development process, Free and Open Source software that can be combined with services from trusted sources, including those of one's own.
Customization and personalization. Plasma Mobile has been built with modularity from the ground up. From the wallpaper and the Look and Feel to lower-level system components, almost every aspect of the system can be customized.
Enabling the community
The goal for Plasma Mobile is to give the user full use of the device. It is designed as an inclusive system, intended to support all kinds of apps. Native apps are developed using Qt; it will also support apps written in GTK, Android apps, Ubuntu apps, and many others, if the license allows and the app can be made to work at a technical level.
Plasma Mobile's development process welcomes contributions at all levels. If you want to get your hands dirty with a cool app, if you want to provide a system functionality such as a mobile hotspot, if you want to improve power management at the kernel level, if you want to help with the design, Plasma Mobile welcomes your contributions.
If you want to take part in the creation of Plasma Mobile, get in touch with us!

A system you can trust
Most offerings on mobile devices lack openness and trust. In a world of walled gardens, Plasma Mobile is intended to be a platform that respects and protects user privacy. It provides a fully open base that others can help develop and use for themselves, or in their products.
As a Free software community, it is our mission to give users the option of retaining full control over their data. The choice for a mobile operating system should not be a choice between missing functions or forsaken privacy of user data and personal information. Plasma Mobile offers the ability to choose the services that are allowed to integrate deeply into the system. It will not share any data unless that is explicitly requested.
Prototype available now
Plasma Mobile is available as a developer prototype running on an LG Nexus 5 smartphone. It can make and receive phone calls. It provides a workspace to manage the system, and a task switcher to control and navigate apps on the device. There are also x86 builds, suitable for an ExoPC, for example, which can be useful for testing. Several apps have been included—both native and 3rd party—in the device images to allow the system to be tested and improved.
Find out how you can have a look of your own!
Where can I find...
More info, such as installation instructions, are available in the Plasma Mobile wiki, on the Plasma Mobile website and on sebas' weblog. The code for various Plasma Mobile components can be found on git.kde.org.
Ask questions in the Plasma Mobile forum, or send an email to the plasma-devel mailing list, or (for private inquiries) to Sebastian Kügler ([email protected]).
---