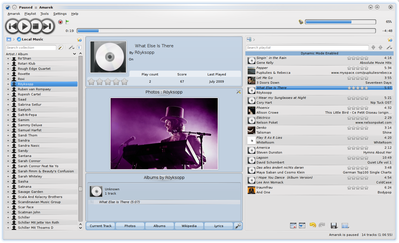 Amarok 2.2
The Amarok team is excited to announce the release of Amarok 2.2. In three and a half months, Amarok has made a huge leap forward, gaining many new features and a lot of old features from 1.4 have returned.
Amarok 2.2 brings back support for sorting and shuffling the playlist, for an external MySQL database as well as for playing audio CDs to name a few. It brings a new video and photo applet to show media related to the current song. The layout can be modified to suit your needs thanks to dock widgets and the sidebar has been changed to be easier to navigate with bread crumbs.
Read more about all the new exciting features in the release announcement.
---