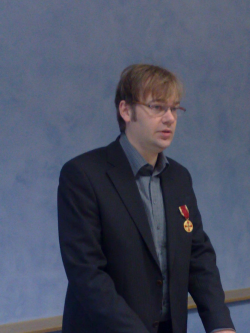 Matthias Ettrich with his shiny new medal.
Today at 4pm CET at the Center for Economics, Technology and Women's Issues at the Berlin Senate, KDE founder Matthias Ettrich was decorated with the German Federal Cross of Merit for his contributions to Free Software. Matthias was awarded the medal in recognition of his work spurring innovation and spreading knowledge for the common good. The award was presented by state secretary Almuth Nehring-Venus. She mentioned that not only is Matthias among the younger recipients of the award but also that this is the first award ceremony where young children of the family were present. Also attending was Eberhard Gienger, member of the Bundestag for the county Matthias grew up in.
Matthias started the KDE project on October 14, 1996 with his now infamous email. The project grew in leaps and bounds, creating one of the most active and innovative Free Software communities today, and helped redefine the expectations users have from free software in general. Indirectly, the KDE community influenced the development of the whole Free Software ecosystem, shifting the focus from Unix as a server system to Unix as a powerful end-user desktop, pushing the boundaries until today. The advance of Free Software depends so much on the interactions between the underlying infrastructure and the desktop that we think the award is well-deserved.
The Federal Cross of Merit is both the most prestigious as well as the only general decoration awarded by the Federal Republic of Germany. It is awarded by the Federal President for outstanding achievements in the political, economic, cultural, and other fields. To Matthias, the award was such a surprise that he first considered the notification to be spam... After being decorated, his only question was: "So, now what is next?" Judging from his history, we think he'll come up with something.
Congratulations, Matthias!
---