The first Guademy event finished yesterday at the university of A Coruña, Spain. Organized by the GPUL (Grupo de Programadores y Usuarios de Linux), the Linux User Group of A Coruña, it was an event which brought together people from the GNOME and KDE camp (thus the combination of "GUADEC" and "aKademy" that forms the name of the event). Read on for a short report of the event.
The Guademy started on the 23rd of March and concluded on the 25th, and was sponsored by Trolltech and Igalia. The three days of the conference were filled with talks about KDE and GNOME as well as talks about co-operation between the projects. For a first-hand account of the talks, you can read Rafael Fernandez blog entries here and here.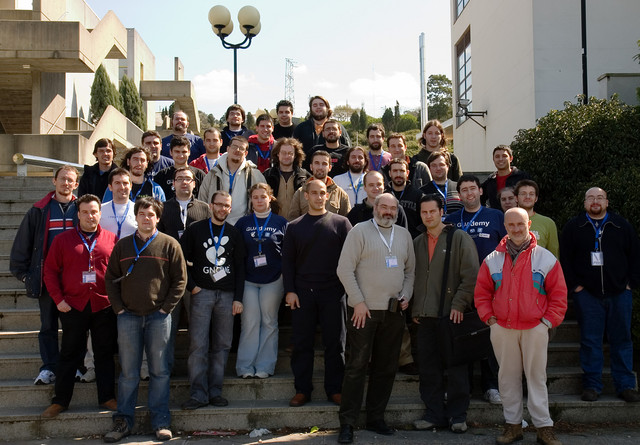 After all the talks on Friday, a Queimada was organized, including the traditional chants that are sung while it's prepared. In order to "release stress", the organizers of the event set up a soccer match between KDE and GNOME developers for the Saturday afternoon. The result of the game is better left unwritten :). On Saturday night, we had a great dinner in a local restaurant, with lots of really nice food from the local area and drinks that forced many people miss the first talks on Sunday.
All the talks were recorded on video and will be published on the conference site, at guademy.org together with the slides and related information.
We would like to thank the organizers, who did a great job with the event - everyone had a great time. We hope it is the first of a long series of Guademy co-operative events!
---